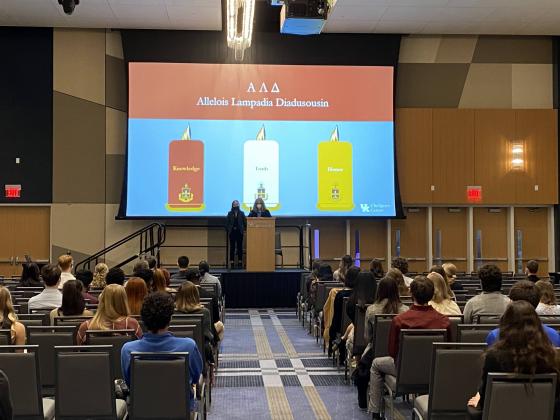 Alpha Lambda Delta
UK Chapter established in 1940
The mission of Alpha Lambda Delta is to encourage superior academic achievement among students in their first year in institutions of higher education, to promote intelligent living and a continued high standard of learning, and to assist students in recognizing and developing meaningful goals for their roles in society.
How To Join
To become a member of Alpha Lambda Delta, you must meet the following requirements:
Enrolled

full-time

at an institution that has an active chapter of Alpha Lambda Delta
Earned a

3.5 grade point average or higher

your first semester or first year (chapters determine time frame and may also raise the minimum GPA and/or require top 20%)
If you received a letter or an email with instructions to join online using MyHonorSociety (MHS), ALD's membership management system, it is legitimate! Follow the prompts to accept membership; you'll need the unique code you received in your invitation. Not all chapters use MHS.
Alpha Lambda
Induction
Alpha Lambda Delta holds a ceremony each spring semester to induct new members of the chapter.
In the Spring 2022 semester, Alpha Lambda Delta inducted 232 new members.
See past members by year in the links below:
Alpha Lambda Delta was founded in 1924 by Maria Leonard, the Dean of Women at the University of Illinois, to recognize academic excellence among freshman women.  One year prior, Dean Thomas Arkle Clark had founded Phi Eta Sigma, an honor society to recognize academic excellence among freshman men.  Both groups operated as single sex organizations until the mid-1970s when they both became coeducational in response to Title IX.
Alpha Lambda Delta has continued to celebrate academic excellence among first-year students and has grown to over 280 chapters initiating over one million students. The National Council which governs the organization has prudently invested the resources and gifts from local chapters, National Council members, former fellowship recipients, and friends of the Society over the years so that the Perpetual Fellowship Fund now exceeds $4 million and can provide support for undergraduate scholarships, study-abroad scholarships, and graduate fellowships.
Alpha Lambda Delta offers three unique award opportunities for undergraduate studies, graduate studies, and study abroad.