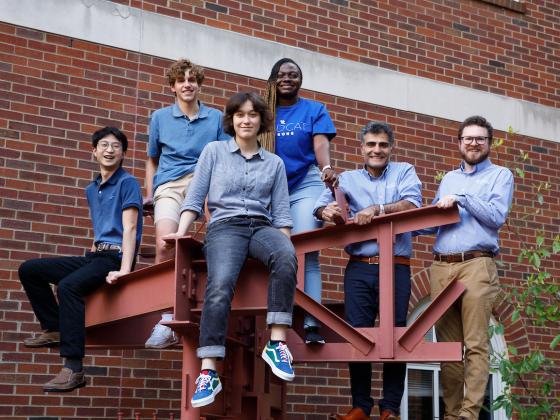 Chellgren Endowed Professorship
CLOSED - Next Call Fall 2025
Chellgren Endowed Professorship
Chellgren Center for Undergraduate Excellence endowment funds five new professorships that will be filled for a three-year, non-renewable term. The Chellgren Endowed Professorships are reserved for tenured UK faculty members who exhibit outstanding credentials as teachers and researchers with a deep interest in undergraduate excellence. 
3-Year
Non-renewable Term
2025
Next Call for Applications
Requirements
To be named a Chellgren Endowed Professor, a faculty member must (1) assume a leadership assignment for a campuswide initiative or program of undergraduate excellence, or (2) propose an independent project that broadly addresses at least one of the following areas of emphasis that can enhance undergraduate education as reflected, in part, by improving retention and graduation rates:             
Development of new courses which may include those that incorporate cultural competency, collaborative learning, problem-solving, creative thinking and team building to enhance students' skills and help prepare them for an ever-changing workplace.
Identify and/or develop new undergraduate programs (including certificates, dual degrees, multidisciplinary and transdisciplinary offerings) that will broaden student preparation and prepare students to be leaders and scholars in a diverse, global society.
Revision of existing courses.
Curricular reform which may include the integration of curricular and cocurricular activities designed to promote student engagement, diversity and retention.
Creation of pedagogical innovations.
Design and implementation of new assessment procedures which may include the assessment of student academic success, well-being and belonging. 
Identify, integrate and propose strategies to integrate high-impact practices throughout academic curricula and majors.
Creation of new programs that strengthen collaboration between college-based programs and units in the Office for Student Success.
How to Apply
Application:  A completed application must be submitted electronically to the Chellgren Endowed Professor Selection Committee via email to chellgrencenter@uky.edu. Application is now closed, next call for professors will be Fall 2025. The application must include the following:
a letter of interest; 
an up-to-date brief academic resume or curriculum vitae (maximum three pages);
a proposal for a project that clearly addresses one or more points of emphasis identified above (maximum three pages), or a description of a leadership assignment appropriate to the mission of the Chellgren Center (maximum two pages);
the most recent teaching portfolio (which may be updated at the applicant's discretion); and
a letter of support from the applicant's dean.
Eligibility: Any tenured faculty member at UK may apply with records of deep and sustained commitment to undergraduate education. 
Selection of Endowed Professors: In consultation with the senior associate provost for administration and academic affairs, the provost shall appoint the Chellgren Endowed Professors from a list of finalists forwarded by the Chellgren Endowed Professor Search Committee.
Compensation: Each Chellgren Endowed Professorship carries a stipend of $5,000 annually during the term of the appointment, which may be used in any proportion for salary or research support. The preferred strategy is to fund professorships as overload assignments, but alternative strategies can be proposed in consultation with deans. With overload assignments additional compensation/research support is possible.