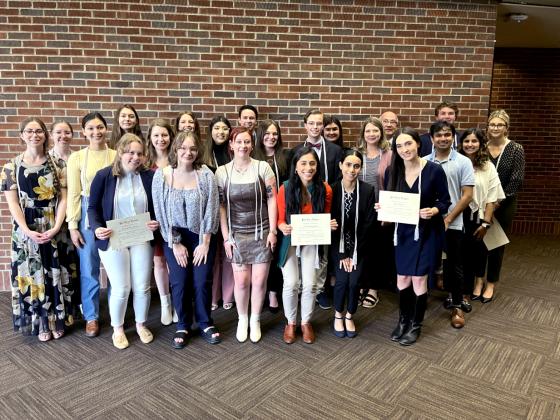 Phi Beta Kappa
UK Chapter established in 1926
Since 1776, Phi Beta Kappa has championed education in the arts and sciences, fostered freedom of thought, and recognized academic excellence. As America's most prestigious academic honor society, PKP honors the best and brightest liberal arts and sciences undergraduates through a highly selective, merit-based invitation process. 
PKP advocates for the importance of liberal arts and sciences education through their National Arts & Sciences Initiative, and equips members with information and tools to thoughtfully engage in American society as leaders, volunteers, and citizens.
Through a diverse network of high achievers, PKP provides opportunities to engage and network through events, quarterly publications, monthly newsletters, and podcasts to provide perspectives on public affairs, literature, science, history, culture, and career development.
How To Join
Only 10 percent of U.S. colleges and universities have Phi Beta Kappa chapters, and these chapters select only the top 10 percent of their graduates to join, making Phi Beta Kappa membership one of the most prestigious honors a student can receive.
If you are a final-semester senior, you may be enrolled in one course needed for requirements. If you qualify AFTER graduation, please nominate yourself in the semester following graduation. 
Membership Requirements:
Grade Point Average: 3.9 for Junior Year Induction; 3.8 for Senior Year Induction
Complete the liberal education requirements of the College of Arts & Sciences, including its foreign language requirement:

4th semester proficiency in one language
3rd semester proficiency in one language and 2nd semester proficiency in a second language

Complete 2 classes at 300-level or higher OUTSIDE your major (e.g. BCH401G for a BIO major or HIS540 for an ENG major)
Complete 90 hours of course work in the liberal arts disciplines (includes most classes offered by A&S and select classes in other colleges, such as Fine Arts and Communications)
Complete at least 60 hours of course work at UK.
Nominations
The Alpha Chapter elects members and hosts an induction ceremony in the Spring semester. Students at the University of Kentucky may be nominated in three ways:
The Membership Chair screens UK academic records for potential nominees.

An advisor, professor, or other university member may nominate a student.

Students may self-nominate.
Membership for 2023 will open on July 1, 2022.
To be elected into Phi Beta Kappa, students must meet the membership criteria.
Phi Beta Kappa was founded on December 5, 1776, at the College of William and Mary. Since then, Phi Beta Kappa has evolved to become the nation's leading advocate for the liberal arts and sciences at the undergraduate level. The UK chapter is the first in Kentucky (Alpha), and was founded by President McVey. The only other Kentucky chapter is at Centre College. 
The national office of the Society was originally located in Williamsburg, VA. In 1954 it moved to Washington, DC where it still resides. Phi Beta Kappa now has over 50 associations (groups made up of Phi Beta Kappa members) across the United States. They support the ideals of the Society through academic, social, and community-based programs.
The Phi Beta Kappa Society offers a variety of awards that support their mission to champion education in the liberal arts and sciences, foster freedom of thought, and recognize academic excellence.
Below are highlighted awards and scholarships, learn more about all available funding opportunities at: www.pbk.org/awards